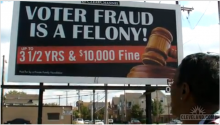 Fraud is a strong word. Webster's defines fraud as deceit and trickery, and an "intentional perversion of truth in order to induce another person to part with something of value or to surrender a legal right." Fraud is a serious matter.
The word "fraud" is on billboards around Ohio. I started noticing this a few weeks ago, when I was driving through a working class African American community in Cleveland and noticed a billboard that read: "Voter Fraud is a Felony: 3 1/2 years & $10,000 fine." 
The red-and-black sign is accented by a large gavel in the lower right hand corner. A few days later, I noticed a similar billboard in Dayton, and late last week saw two such billboards near my home in urban Cincinnati. In an election season that has seen more jockeying around voter fraud and voter suppression than any in my memory, these billboards caught my eye.
Voter fraud sure sounds horrible, and based on these billboards in Ohio, one would imagine that it is an epidemic. After all, one of the hallmarks of American democracy is our fair and free elections.
But the billboards quickly created dissonance for me based on a recent meeting I and other pastors from Ohio Prophetic Voices enjoyed with Ohio Secretary of State John Husted. During the meeting, Husted told us that voter fraud is extremely rare and almost nonexistent. Statistics back up Husted's contention.