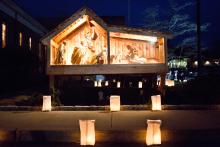 What would Jesus do with guns?
Would he own guns? Sell guns? Perform miracles and multiply guns for 5,000 people? Would he use guns? Would he ask his followers and disciples to own guns? I'm no expert on the topic of Jesus and guns but I do know Jesus and for this Jesus who encouraged people to "turn the other cheek" and gave encouragement to be "peacemakers,"  my guess is that he wouldn't be a member of NRA.
I know that Jesus has many names but he is also the "Prince of Peace." Right?
The sad truth is that guns and violence are no laughing matter.
Today only marks a week and a half since the horrific mass shootings at Sandy Hook Elementary School at Newton, Conn. Even as of today, families are burying children and loved ones. We still can't make sense of something so senseless.
When the shootings at Columbine took place in 1999 that left 70 shot and ultimately killed 13 people, I heard some pundits explain that we need not fear and that Columbine was going to be an isolated once-in-a-lifetime incident. Since Columbine, there have been 181 shooting at schools across the United States, 61 mass murders since 1982, and six alone here this year including one about three miles from our home that left six people killed on May 30.
I don't care what you say, we have a problem.