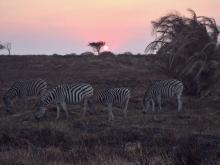 "There is nothing quite like the African bush to sooth and rejuvenate." That experience was conveyed to me by a South African church leader who has been helping plan the speaking tour I just arrived for here in this beloved country.
My wife, Joy, and I decided to use this wonderful speaking invitation to South Africa as an opportunity to take our annual August family vacation here. We arrived for a week of rest before the tour began and spent a few beautiful days on the lovely beaches of the Indian Ocean, still warm even for this end-of-winter period. But then the last two days, our Washington, D.C.-based family did something we have never done before — visited the game park and wetland reserve to see some of God's most extraordinary creatures. Of course we've seen these animals in zoos before, but we now had the opportunity to see them roam freely in their natural habitat. For a bunch of city kids like us, it was truly amazing.
In Hluhluwe Game Reserve, beautiful zebras slowly grazed with a South African sunset behind them over the mountains. There are no more graceful creatures than giraffes, elegantly tasting the leaves on the tallest trees as they wander together at peace. Buffalos with great horns shared the terrain with antelopes that showed us their speed when they decided to run. And hyenas really do laugh off in the distance.