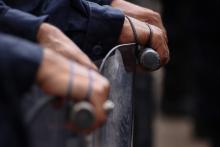 Close to 200 Japanese protesters gathered in Okinawa to stop construction trucks from entering Camp Schwab, a U.S. base, after the Ministry of Land overruled the local governor's decision to revoke permission for construction plans. They criticized the "mainland-centric" Japanese government of compromising the environmental, health, and safety interests of the islanders.

Riot police poured out of buses at 6 a.m., outnumbering protesters four-to-one, and in less than an hour had cleared way for the construction vehicles.

Local officials have objected to the construction of the new coastal base, which will landfill 160 acres of Oura Bay and require a 205 hectare construction plan to develop a military runway.