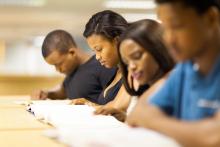 One of the most common criticisms of faith I have heard is this: if there is an all-powerful and loving God somewhere out there, why does this God allow horrible things to happen? In a world where there has always been war, sexual violence, starvation and murder, where is this omnipotent God? Why does he allow these things to happen? Where is she when people suffer injustice?
The Bible gives us plenty of examples of the abuses of the faithful, sometimes even at God's own hand (like in the book of Job). We read of the systemic oppression of the Jewish people and the early Christian church. Through this, God's people were always able to remain steadfast in their faith. Forming a defense of faith in God in the face of realized evil is known as theodicy.
So: In a nation where Blacks have been enslaved, lynched, and raped because of their race, and in time where people must declare that "black lives matter," how do black Americans form their own theodicy to justify this violence, abuse, and systemic oppression?
And is it necessary to do so?