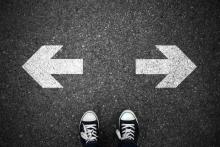 It was a rough week at work. It got off to a bad start and didn't improve much. Maybe you've had one of those weeks.
It all started when one of my supervisor decided to observe me talking with a client. In my view, the conversation went really great. In fact, in the middle of our discussion, I literally thought, "I'm so glad my supervisor is witnessing this! I've built great rapport with the client, I've elicited his story, and he's talking about his emotions and his relationships!" I decided that the universe was clearly on my side, because as we left, the client said, "Thank you so much for this conversation. I feel much better. You really brightened my day."
In other words, I nailed it.
Then my supervisor wanted to debrief and provide some "constructive criticism." After asking what I thought was good about the conversation, he proceeded to "should on" me. Have you ever been "should on?" It's no fun. He said things like, "You should have done this," "You should have done that," "You shouldn't have pushed so much with this," "You should have noticed when he said this." He said nothing positive about the conversation. Except at the end when he claimed, "You're doing fine."
Then I started to get critical.
"I'm doing fine?!?" I thought. "What does 'fine' even mean? Is that some kind of backhanded compliment? Fine is bland. It's neither good nor bad. It's like the word 'interesting.' I hate that word. Tell me what you mean by 'INTERESTING!' Well, in the context of this "constructive criticism," fine apparently means that I'm not good.
And that's when the voices came. I've had them before. I'm sure you've had them, too. It's the voice of doubt that says, "Do you really think that you can do this? Well, you can't. You're a joke. You've been studying this and practicing this for six months, and you're still making rookie mistakes. Even when you think you are doing great, you fail." Then comes the kicker, "You aren't good enough and you will never be good enough."