subculture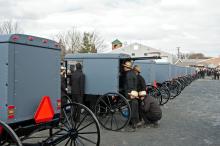 Who knew the Amish would become such a center of pop-cultural attention?
Since 1994, musician David Bazan (former front man of Pedro the Lion and Headphones) has put sharp questions about faith, justice, and his Pentecostal-evangelical upbringing front and center in his songs...
One of the big conversations in my household this year has revolved around the question of whether my 9-year-old daughter is ready to get her hair "permed." Some girls at her school have already been initiated into the world of relaxed hair, so the peer pressure is in effect.