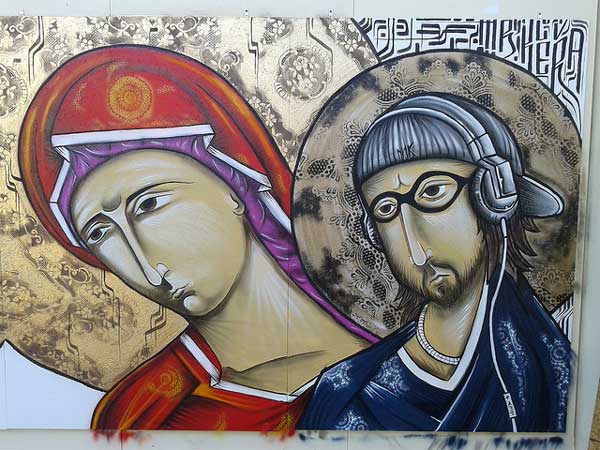 ROME — Even in the heartland of global Catholicism, a life-size Madonna on a street wall is an uncommon sight — especially if you leave the cobblestone alleyways of the historic center for the drab concrete of the city's former industrial districts.
But bringing sacred art back to Rome's run-down streets is exactly what a street artist known as Mr. Klevra has set out to do.
Mr. Klevra, a 34-year old Italian artist and a committed Catholic, paints Madonnas and other saints on thin paper posters and then glues them onto walls under the cover of darkness.
"I love the adrenaline of putting up the paintings while hiding from the police," he said. "I love the randomness of having your art torn down after five minutes or see it stay in its place for years and years.''
Mr. Klevra is his artist's name — like many street artists, he doesn't give out his real name, and prefers to keep his identity secret, even shielding his face from cameras.
In his paintings, he combines the millennia-old techniques of Eastern Orthodox iconography with modern tools such as spray paint and Uni Posca pens. Pop culture references sometimes find their way into his work, such as a Madonna with the motto "Only after disaster can we be resurrected,'' a line from American author Chuck Palahniuk's novel, Fight Club.