spoken word
Daneil Beaty performs "Knock Knock," a powerful poem that tells the story of his father's incarceration.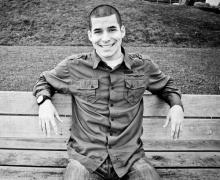 Are you a Christian who spends a lot of time online? Then perhaps you've heard of Jeff Bethke. Bethke, aka bball1989, is a spoken word poet whose rhymes and videos are capturing the attention of thousands of Christians across the web.
His latest video is going viral among online Christian communities. Provocatively titled "Why I Hate Religion, But Love Jesus," the poem is a unique fusion of prophetic criticism, personal testimony, and a call to action.
I recently wrote and performed a spoken-word poem for the Transformational Development (TD) Conference at Eastern University, co-sponsored by Eastern and Food for the Hungry.