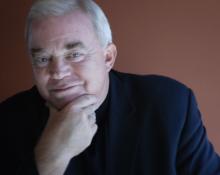 Tuesday was a big day.
Nearly 150 evangelical leaders signed onto an "Evangelical Statement of Immigration Reform." Signers came from across the spectrum of evangelicalism including leading Hispanic evangelical organizations, to pastors such as Max Lucado, Bill Hybels, Joel Hunter, and Jim Daly, president of Focus on the Family.
No, that isn't a typo. Sojourners stood side by side with Focus on the Family to draw attention to the plight of millions who have been caught up in our broken immigration system. It was exciting to see such unity across the traditional political spectrum that rarely happens in Washington.
Make no mistake, there are still big gaps in theology and politics among those in this group. But Tuesday wasn't about politics. Rather we focused on the things we agreed were fundamental moral issues and biblical imperatives. This coming together to help fix a broken immigration system on behalf of those who most suffer from it is just what politics needs and could begin to affect other issues, too.
Instead of ideology, we came together because of morality and common sense. And that's what leaders are supposed to do.