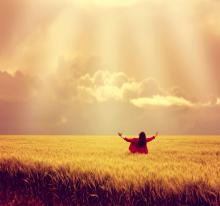 As the Father has loved me, so have I loved you. Abide in my love. If you keep my commandments, you will abide in my love, just as I have kept my Father's commandments and abide in his love. These things I have spoken to you, that my joy may be in you, and that your joy may be full. This is my commandment, that you love one another as I have loved you. Greater love has no one than this, that someone lay down his life for his friends. – John 15:9-12
War is always ugly. The loss of innocent lives is never easy to swallow. And yet, as tanks open fire on the humble homes of the Gazan poor and rockets rain down on a terrified Israeli populace we are compelled to ask, "How do we keep coming back to this profane and violent place called war?" Why do we consistently and continually fail to understand the simple principles of our own faith and the faiths of those who profess a belief in God?
These simple faith principles speak of a command to love one another and to have a deep and abiding respect for all life – especially innocent life. Then, why do we fail to love justice, peace, and mercy as God commands and seem so determined to visit such violence and destruction on our world and on one another?
Similar questions arise for me in my work as a pastor who labors in organizing people of faith to contend with the tough issues that we face daily in our country. Issues like the mass incarceration of our young, the struggle for human dignity by the poor, the lack of employment opportunities for those who desire only to feed their children and raise their families, and the millions who yearn to step out from the shadows of unjust immigration laws and be recognized as cherished citizens of an open and welcoming nation. These are the tough issues that bring me and so many other clergy and people of faith from the confines of the church into the streets and homes of those whose lives are tethered closest to the pain of injustice. In each of these instances the moral challenges seems so clear but the outcomes are incongruent with the faith principles that are designed to guide our hearts and direct our actions.