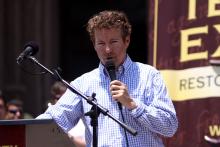 Sen. Randal Howard "Rand" Paul, the junior Republican from Kentucky, is expected to launch his 2016 campaign on April 7. Here are five facts about the faith background of this libertarian candidate:
Paul, 52, was baptized an Episcopalian. It didn't stick. He attended Baylor University, a Baptist school in Texas, then Duke University. He now attends a Presbyterian church. In this, he is like most Americans — all over the map in terms of his religious affiliation.
 
At Baylor, Paul joined the NoZe Brotherhood, a secret and controversial society that routinely skewers the school's Baptist roots and other aspects of undergraduate life. His association with the group came back to bite him in his initial run for the Senate after GQ magazine ran a story claiming NoZe was dedicated to "blasphemy," and Paul, while high as a kite, helped kidnap a coed and forced her to pray to "Aqua Buddha," a made-up water idol. Paul threatened to sue the magazine.