Sen. Jeff Sessions
Following more than 24 hours of heated debate and testimony on the Senate floor and dozens of protests leading up to the vote, Sen. Jeff Sessions (R-Ala.) was confirmed as attorney general on Feb. 8 in a 52-47 vote, with only one Democrat, Sen. Joe Manchin (D-W.Va.), voting yes.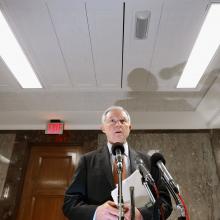 The momentum for immigration reform is building across the country, but leaders in Washington are often the last to realize the seismic shifts taking place. The most recent example is when Alabama Sen. Jeff Sessions made the claim that there is no "moral or legal responsibility to reward somebody who entered the country [without documentation]."
No moral responsibility? Many Christians believe otherwise.