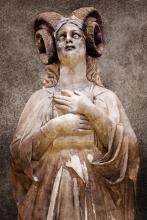 Oklahoma may seem an unlikely place for what has been called a satanic sculpture to be installed on government property. In fact, there may be no better place for it.
Considered by many to be the buckle in the proverbial Bible Belt, the statehouse in Oklahoma City has boasted a sculpture of the Ten Commandments, paid for by Oklahoma State Representative Mike Ritze, for some time. Actually, the statue is in the process of being rebuilt after a man who heard voices in his head urinated on the monument and then crashed into it with his car.
Perhaps most interesting is the legal groundwork laid to allow such a religious statue to be placed on public property. To avoid church/state separation issues, the property on which the statue was placed was declared as a monument park, and Ritze donated the piece. Finally, Ritze claimed protection under the First Amendment as a basis for a religious icon being on government grounds.
But they set legal precedent for other groups, like the Church of Satan, to do the same thing. They have actually agreed to halt plans for the installation if Ritze and his supporters will not replace the destroyed Ten Commandments statue. At this point, Ritze intends to proceed, while also fighting the placement of the other piece.
There are at least three important factors to consider including:
1) The First Amendment applies to thing we don't like.