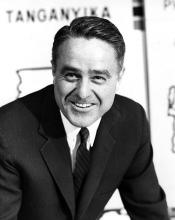 In June my husband, who gets lots of review copies unbidden, asked me if I wanted to read Mark Shriver's memoir about his father, Sargent Shriver, who passed away in 2011 at age 95.
"Since you're a fan of all things Kennedy," he said, "I thought you might want to see it."
I didn't.

True, a high point in my adolescent life was standing in back of St. Matthew's Cathedral one December morning in 1963 waiting for mass to begin when suddenly a very tall, very disheveled, very pregnant Eunice Kennedy Shriver pushed past me, wearing smudged red lipstick and a full-length fur coat. But sons are not necessarily good biographers, and anyway, I had a stack of mysteries awaiting my attention.

But then in July, a Facebook friend pointed me to Reeve Lindbergh's review of A Good Man in the Washington Post, suggesting that this was a book I might want to read. Lindbergh — herself the daughter of two famous parents, Charles and Anne Morrow Lindbergh — called it "a moving and thoughtful book." Maybe I'll read this after all, I said to myself. And then a week or two later, my friend Estelle sent me a copy of the book as an early birthday present, telling me she thought I'd connect with it on many levels.
I must be supposed to read this one, I thought.