sanford police department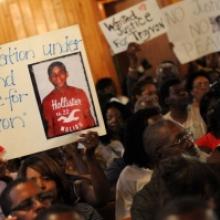 Sanford Police Chief Bill Lee, who has been criticized for his handling of the Trayvon Martin shooting case, has stepped down temporarily, according to The Miami Herald.
"I am aware my role as leader of this department has become a distraction from the investigation," Lee said, according to the report, adding that "temporarily removing" himself from the role would restore a "semblance of calm to the city which has been in turmoil for several weeks."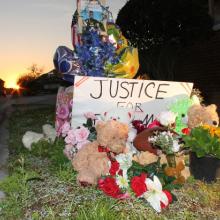 It's about to rain. A rolling explosion of thunder just shook the ground my home rests on. Flashes light the sky and moments later … thunder rolls. That's how it feels when I think of the last moments of 17-year-old Trayvon Martin's life and the fact that the Sanford Police Department determined after a nearly non-investigation that Trayvon's killer, 28-year-old George Zimmerman, did no wrong—nothing wrong.
Like the thunder rattling my apartment, the death of Trayvon Miller is rattling my soul. Like millions of Americans, I marveled over the fact that I had heard nothing on the news about the slaying in the three weeks since the incident took place. Then, when the Sanford Police released the 911 tapes over the weekend, and the nation heard Trayvon's horrified cries for help before the single shot that ended his life, the story exploded—like my own heart.
Something broke in me. I actually sat paralyzed in front of my television—shocked. Then thunder cracked open my soul and I wailed. I mean I keened … and I couldn't stop.
Trayvon looked like several of my nephews. He could have been any of them. He was just living his life on February 26—walking home from the convenience store before the big game, talking on his cellphonewith his friend. That's all.
Then in the last moments of his life, he was chased, cornered, beaten and shot by a white man he didn't know for reasons never explained to him—except the accusation from his assailant that he didn't belong there.