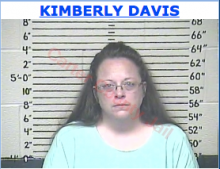 Kim Davis, the embattled Kentucky county clerk at the center of a dispute over gay marriage and religious liberty, is out of jail but "needs time to rest" and won't return to work until Sept. 11 or Sept. 14, her lawyers said Sept. 9.
Liberty Counsel, the legal group representing Davis, said she plans to spend time with family after the six-day ordeal in the Carter County Detention Center.
The Rowan County clerk was jailed on Thursday for refusing to comply with a federal judge's order to issue marriage licenses to same-sex couples. While she was being held, her deputies complied with the order, which satisfied the court.