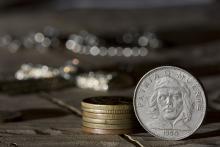 I'm starting to think that Che Guevara and the Jesus of the Gospel according to Mark have an awful lot in common.
I should explain, first, that I'm in the first month of My Jesus Project, a year-long effort to more deeply live into the life, teaching and example of Jesus through prayer, study, and action. Each month, I explore a new dimension of Jesus with a mentor. This month is 'Jesus the Radical' with Christian Anarchist Mark Van Steenwyk. So of course coming from this point of view is going to impact my month's reading of the Gospel according to Mark. It's supposed to.
But in my 43 years of being exposed to the Bible, never have I seen the Jesus of Mark in the way I'm starting to see him now.
There are two recurring themes throughout the first several chapters in Mark: crowds and healing. The crowds following Jesus represent his growing power and influence — a growing threat to the occupying authorities of the Roman Republic — and though there are many general accounts of healing, the ones explicitly detailed in Mark all point to some act of political or religious defiance in the midst of the miraculous act of compassionate healing.
He's either claiming the authority to forgive sins in front of religious leaders, healing on the sabbath, coming in contact with "unclean" women (like the bleeding woman in chapter five) without undergoing a cleansing mikvah  ritual immediately afterward, or he's touching dead bodies (also chapter five) without cleansing himself as well. So far, throughout the first half of Mark, every account of healing or forgiveness stands in direct defiance of some political or religious rule.
All human laws bow at the feet of the authority of God, which is not a rule of law, but rather a subversive, paradigm-shifting "from the bottom up" rule of love and compassion for others, first and foremost. Period.