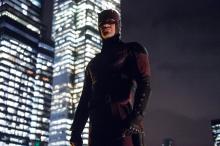 Like many comic book fans, I spent the weekend binging on Daredevil, Marvel's newest release. The entire first season was created for Netflix, and it dropped in its entirety on Friday. I waited until Saturday night to dig in (longer than some friends of mine), and I was hooked from the opening scene.
It's a scene that opens with Matt Murdock (lawyer-by-day alter ego of the masked vigilante Daredevil) sitting in a confessional. He begins by telling the priest about his father, a boxer who fought harder than his record could ever show. He ends the conversation by asking not for penance, but for future forgiveness — forgiveness for what he's about to do. "That's not how this works," the priest says.
Yet so much of how Murdock as Daredevil works in this latest iteration of the character is how we want it to work. Based closely on Frank Miller's writing of the character, Daredevil proves to be someone who deals justice unflinchingly. This isn't someone who hesitates when the situation allows for a grim, overly firm hand. Contrast this with Batman, a character who struggles to commit severe violence even when it seems to be the only option.