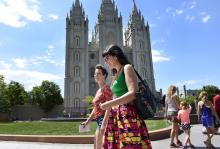 When Stephanie Engle was a teenager, she struggled with what she termed as the racism and sexism within the LDS Church.
Engle said she researched Mormon history after moving away from home for college, learning about polygamy, and other "really questionable practices" of church founder Joseph Smith.
"I just thought this is so obviously not true," she said.
"I can't keep claiming that I believe it."
On July 25, six years after ending her participation in The Church of Jesus Christ of Latter-day Saints, Engle took a final step to sever her ties with the Salt Lake City-based faith.
With a signed letter in hand, Engle joined roughly 100 current and former Mormons — including Ordain Women co-founder Kate Kelly — at a mass-resignation event a block from the church's downtown headquarters.