re-entry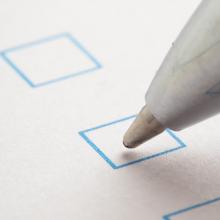 IN DECEMBER 2011, Eddie Bocanegra, a congregational organizer-in-training, invited me to a meeting held by members of the Illinois-based Community Renewal Society (CRS), a faith-based organization that works with communities to address institutional racism and poverty. I was researching how faith-based organizations facilitated recovery from gang life. However, I was also to learn how formerly incarcerated persons use faith to change their communities.
There were 30 people at the meeting—black, white, and Latino—from diverse Christian backgrounds: Baptist, Catholic, and Eastern Orthodox. First, Bocanegra shared his testimony: The Illinois governor and the United Nations had recognized Bocanegra for his work in violence prevention, but the stigma of his old gang life and criminal record overshadowed his qualifications for employment.
We were asked to think of solutions to "records discrimination." One person recalled visiting the state capital to lobby for ban-the-box legislation to remove the felony conviction question from employment applications. From that meeting arose a campaign against records discrimination. With the guidance of a CRS organizer, Bocanegra helped found and lead an ex-offender-led civic group called Fighting to Overcome Records and Create Equality (FORCE). Eighteen months later, FORCE earned its first legislative victory: Illinois House Bill 3061, which expanded the list of offenses that can be sealed for employment application background checks.
The National Employment Law Project reports that people like Bocanegra are not alone—65 million Americans have a criminal record. Even for those with low-level convictions, a criminal record carries a stigma and often relegates them to unemployment. While the dominant narrative of re-entry tells us that if the formerly incarcerated obey laws and accept social conditions they will be redeemed as good citizens, this is simply not true. In fact, such "blanket discrimination" against formerly incarcerated persons has a racially disparate impact that violates Title VII of the Civil Rights Act.
Reentry is often a pain in my ass.
It's true. I get a chance to get away from it all, to spend some time with friends and begin to unwind and it's glorious. But then there's the return trip home. It always takes longer. It's like slogging through Chicago slush. Painful. Unpleasant. So, after years of dealing with this side of my personality, I've tried to develop a habit of articulating the positives of leaving.
I rise on the wrong side of the bed the day after spending time in contemplation and wonderment. It happens. I apologize to Spouse and try not to step on any toes. Rev. Crankypants is in the house.
So, to undo the crankyness, I want to thank Brother Rob for his kind attentions over the last few days. I want to thank him for letting me use his name in such a scandalous way as I have. His coattails are long. It's astonishing how using his name in such a title can bring traffic to one's blog. It's a little embarrassing, really.
Rob is a good man trying to do some radical stuff. He has a ministry to those who understand the call to be fully awake and alive in this world as a radical posture.