procession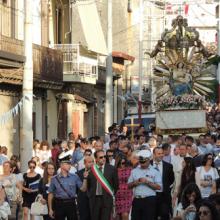 Only two weeks after Pope Francis announced he was excommunicating the Mafia, a religious procession in southern Italy has provoked uproar after paying homage to a convicted mobster.
Catholic bishops condemned the detour of the traditional procession, which carried a statue of the Madonna past the house of 82-year-old Peppe Mazzagatti, a Mafia boss serving a life sentence under house arrest.
The town of Oppido Mamertina is home to some powerful criminal clans associated with the Calabrian Mafia known as 'Ndrangheta. For health reasons, Mazzagatti is serving his sentence at home.
When I first heard the announcement to rise for "the presentation of the colors," I didn't understand what that was.