presidential videos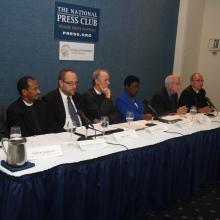 As the faith leaders said yesterday, we have no choice but to respond when we learn that so many of our brothers and sisters are living in poverty. It makes these presidential candidate videos ones that every Christian should watch before they vote.
We asked the candidates, what will you do to address the highest numbers of people in poverty in America in almost 50 years—numbers that we learned today are still growing? We believe these messages from the Presidential candidates should lift the issues of poverty into the national debate into this election season.
We invite members of the press to watch these videos and to question these candidates even further about their visions and policy choices for overcoming poverty. The poverty numbers that came out yesterday require responsible journalists to make the question of poverty an important part of this election year discussion.