Preemptive Love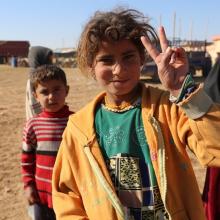 Most parents wonder if what they teach their children is sinking in, if the values they try to model are becoming part of their character.
Zahra'a's parents don't have to wonder. The first thing she did when her family received their packet of relief aid — the first aid they'd received in three years of displacement and conflict — was to turn to our staff member, whom she'd never met before, and invite him to lunch.
Today I was catching up on emails and came across two messages that deeply affected me, maybe because I read them back-to-back.
The first one is from a friend who helped release the "Collateral Murder" video via Wikileaks, showing US troops shooting some unarmed folks in Baghdad, including two children sitting in a van as their family stopped to pick up the wounded and dead. It is one of the most disturbing and heartbreaking videos I've ever seen. Feel free not to watch it.
NOTE: If you do watch the video inside the blog, please know that it is contains vivid images of war. It was released here:
The other email message I read was just the opposite. It was about life.