preclearance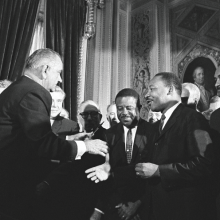 More than 80 bills to restrict voter access were introduced in 2013.
On Tuesday, the Supreme Court struck down part of the Voting Rights Act that was enacted in 1965 to root out racial discrimination in voting. The specific section of the Act that was stricken — Section 4 — set forth a formula for determining which jurisdictions need federal clearance before making even minor changes to voting procedures. The impact of striking Section 4 is that the most important part of the Act, Section 5, is now rendered useless. Section 5 provides that states, cities, and counties with a history of racial discrimination in voting must "pre-clear" changes to voting procedures with the Department of Justice or a special court in Washington, D.C. Without the formula in Section 4 to determine which states, cities, and counties the preclearance should apply to, the preemptive protection provided by Section 5 no longer exists, and any future challenges to changes in voting procedure must happen after such changes are already in effect.
The majority of the Court felt that racial minorities do not continue to face discriminatory voting practices, and that the preclearance requirement was based on 40-year-old facts that had no logical bearing on present day. Chief Justice Roberts, Jr., wrote:
"Our country has changed. While any racial discrimination in voting is too much, Congress must ensure that the legislation it passes to remedy that problem speaks to current conditions."
The practical application of Tuesday's decision is that states will be able to enact potentially discriminatory laws that previously had been blocked. This was made immediately apparent in Texas, which announced after the ruling that voter identification laws would go into effect immediately.