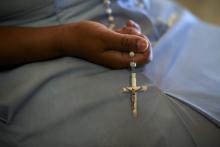 Last week the Vatican released the final report on its unprecedented investigation of Roman Catholic sisters in the United States. Six years ago, when the Vatican announced the apostolic visitation (its formal name), many of the sisters whom the investigation affected responded with hurt and anger. Now, thanks largely to competent, spiritually grounded leadership on the part of American sisters, the spirit is conciliatory.
When the Vatican launched the investigation in 2008, under Pope Benedict, to "look into the quality of life of religious women in the United States," the announcement was met with suspicion and apprehension. Since the Vatican had previously only ordered an apostolic visitation when a group had gone astray, sisters wondered what the Vatican wanted to investigate and why. Some congregations reported that their elder sisters felt that their whole lives had been judged and found wanting," remembers Sr. Sharon Holland, president of the Leadership Council of Women Religious, which represents about 80 percent of the 57,000 nuns in the U. S. When Sr. Sandra Schneiders, professor emerita of New Testament and spirituality at the Jesuit School of Theology in Berkeley, Calif., learned of the visitation, she warned sisters to be cautious, treating the visitors as "uninvited guests who should be received in the parlor, not given the run of the house."
In a situation that could have escalated badly, American sisters rose to the occasion.