political campaign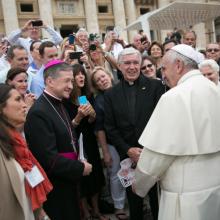 The morning after a Chicago rally for Donald Trump was canceled for fear of violence, the city's Catholic archbishop warned that "enmity and animosity" are hallmarks of today's politics and a "cancer" that is threatening the nation's civic health.
"Our nation seems to have lost a sense of the importance of cultivating friendships as fellow citizens who, being equal, share much in common," Archbishop Blase Cupich said in a homily March 12 at Old St. Patrick's Church.
Sojourners has always tried to understand and advocate for "biblical politics." But what does that mean now, especially as we approach another major election?
I was talking the other day to a Christian leader who has given his life to working with the poor. His approach is very grassroots -- he lives in a poor, virtually all-minority community and provides basic services for low-income people. He said, "If you work with and for the poor, you inevitably run into injustice." In other words, poverty isn't caused by accident. There are unjust systems and structures that create and perpetuate poverty and human suffering. And service alone is never enough; working to change both the attitudes and institutional arrangements that cause poverty is required.