Petna Ndaliko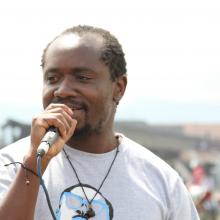 "The practice of peace and reconciliation is one of the most vital and artistic of human actions." — Vietnamese Buddhist monk Thich Nhat Hanh
How do you combat violence, institutionalized rape, a corrupt government, and years of injustice? With more violence, better weapons, or more strategic strikes?
For Petna Ndaliko, you do it through art. In spite of attempts by the Congolese government and militia groups to silence them, Petna created a stage for local youth to express themselves. They sing about oppression, about corruption, and about the people's ability to overcome.
Art heals. It unites a community. And it can ignite a spark for change. Film can inspire rape survivors to find their voices and tell their stories. From a grassroots level, music moves people to action.
Petna calls himself a small light from which a huge fire starts growing. For many Christians, this echoes Matthew 5:14, "You are the light of the world. A city built on a hill cannot be hidden."
Petna's hope is for the flame to spread through the youth of Congo, to carry the message of hope forward to future generations, finding creative ways to combat injustice.