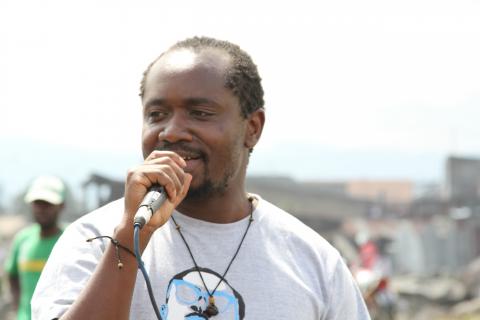 "The practice of peace and reconciliation is one of the most vital and artistic of human actions." — Vietnamese Buddhist monk Thich Nhat Hanh
How do you combat violence, institutionalized rape, a corrupt government, and years of injustice? With more violence, better weapons, or more strategic strikes?
For Petna Ndaliko, you do it through art. In spite of attempts by the Congolese government and militia groups to silence them, Petna created a stage for local youth to express themselves. They sing about oppression, about corruption, and about the people's ability to overcome.
Art heals. It unites a community. And it can ignite a spark for change. Film can inspire rape survivors to find their voices and tell their stories. From a grassroots level, music moves people to action.
Petna calls himself a small light from which a huge fire starts growing. For many Christians, this echoes Matthew 5:14, "You are the light of the world. A city built on a hill cannot be hidden."
Petna's hope is for the flame to spread through the youth of Congo, to carry the message of hope forward to future generations, finding creative ways to combat injustice.
As Brian McLaren put it in a June 2011 Sojourners column, "Is God Violent?":
Jesus practiced as he preached: Reconciliation, not retaliation. Kindness, not cruelty.

A willingness to be violated, not violation. Creative conflict transformation through love, not decisive conflict termination through superior weapons. Courageous and compassionate resistance, not violence. Outstretched arms on a cross, not stockpiles of arms, nuclear or otherwise.
Watch Petna's video
Discussion questions
1. In what ways can art bring about change? What is the connection between a flourishing arts environment and a peaceful community?
2. When have you hit a wall in your own life? What gave you hope to continue?
3. What are the ways you have seen art build peace and foster community?
Prayer
Protector of the weak and the helpless, we pray for healing in the Democratic Republic of Congo through creative peacemaking. For those whose nights echo with gunshots and whose days resound with the cries of women who have been brutally raped, we earnestly pray for healing and security. Empower the youth in their dreams for community and equip your peacekeepers in Congo so that they may uphold justice! Amen.
More about Petna
Petna Ndaliko is the co-founder of Yolé!Africa, an organization founded in 2000 that promotes peace and reconciliation through arts and culture. The organization operates a cultural center in Goma where they provide a platform for exchange of ideas and expression among youth from different backgrounds and social statuses, offering mentorship and artistic support including film, music, dance, and exhibitions.
Yolé!Africa also organizes the Salaam Kivu International Film Festival, an annual 10-day festival and a vivid reflection of the rich artistic community and culture of eastern Congo. Yole! values respect for all human beings and stands against all forms of exploitation or violations of human rights. An artist himself, Petna has created a space where youth can keep "building and not destroying."
Send Us a Note
Got something to say about what you're reading? We value your feedback!