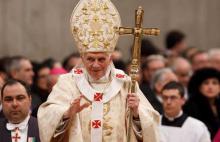 Pope Emeritus Benedict XVI resigned from the papacy because "God told me" to, according to a report by a Catholic news agency.
The Zenit news agency reported on Monday that Benedict decided to step back as a result of what he described as a "mystical experience" that shouldn't be confused with a vision.
That experience sparked an "absolute desire" to dedicate his life exclusively to prayer, in a solitary relationship with God, Benedict reportedly said.