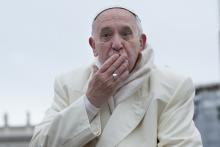 In a wide-ranging interview he gave March 13 for the second anniversary of his election, Pope Francis touched on a variety of topics, from his concern about bad homilies to his upcoming U.S. visit to his one real wish: to go out for a pizza without being recognized.
But leading most of the news coverage were his remarks suggesting that he expects his papacy to be short, perhaps lasting no more than another year or two.
"I have the feeling that my pontificate will be brief: four or five years; I do not know, even two or three. Two have already passed," he told a Mexican television station.
"Say it ain't so, Pope!" as the lead on the New York Daily News' story on Francis' "shocking comments" put it.
"I just want him to be around for as long as possible," Cardinal Timothy Dolan told the tabloid.
"I need him. We need him. The church needs him."
To be sure, the prospect of Francis' imminent retirement — or demise — would be dismal news for Francis' many fans, and perhaps a rare lift for his opponents.
In fact, Francis has suggested on several other occasions that he did not expect his papacy to be too long, and one can understand why he would say that:
He is 78 years old, and while he is amazingly active and productive, he suffers from various pains and potentially more serious health issues. His aides worry about the pace he keeps, and he repeatedly ignores their pleas for him to slow down.
In recent decades both Pope Paul VI and Pope John Paul II were targets of assassination attempts (a shooter in St. Peter's Square critically wounded John Paul) and in a world reeling with terrorist attacks and religious strife, Francis knows he is a potential target.
John Paul reigned for 26 years, the third-longest papacy in history, so compared with that even a decade-long pontificate would seem short.
John Paul's successor, Benedict XVI, opened a new option — which Francis has praised — when in 2013 he became the first pontiff in six centuries to retire, and after just eight years, at the age of 85.
But a closer reading of Francis' remarks, and analysis from those who know the pope, say that's not what he meant, at all.