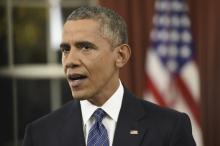 President Obama sought to reassure the nation amid renewed fears of terrorism the night of Dec. 6, saying the terrorist threat has "evolved into a new phase" of attacks hatched at home by extremists "poisoning the minds" of killers already on American soil.
"I know how real the danger is," said Obama.
"The threat from terrorism is real, but we will overcome it. We will destroy ISIL and any other organization that tries to harm us," Obama said.