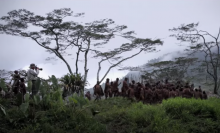 Why do we engage with art? What is about a poem, painting, film, or photograph that can sometimes make them rank among the most impactful experiences of our lives? Sure, skill has a lot to do with it. Aesthetics and story do, too. But one of the things, perhaps the biggest thing that makes art art, and which gives it that extra emotional oomph, is perspective.
Perspective can mean many things. It can mean the point of view from which a story is told. It can mean the way in which something is presented visually; looking down from above, for example, or up from below. More expansively (and when it's done well), perspective means using all of these to express the worldview of the artist, communicating their thoughts about a subject, or a place, or even just life in general, by what they choose to show us and how they choose to show it.
The Salt of the Earth, Oscar-nominated this year for Best Documentary, is a film about Brazilian photographer Sebastião Salgado. But it's also a film about perspectives. Not just Salgado's, shown through his life and his art, but also the perspectives of the film's two directors, the photographer's son, Juliano Ribeiro Salgado, and German New Wave auteur Wim Wenders (the director of Wings of Desire and Paris, Texas). Each man approaches the subject with a different point of view — Salgado recounting his own experiences, Juliano as the son who grew up with an often absent father, and Wenders as a fellow artist and long-time admirer of Salgado's work.