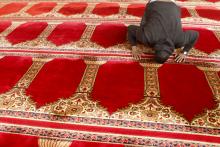 There are Rutgers students and graduates whose futures are in jeopardy because they were placed under surveillance by the NYPD — operating outside of its jurisdiction — for no other reason than they practice Islam.
This troubling reality is at the heart of the lawsuit Hassan v. City of New York, which was argued before judges of the Third Circuit Appellate Court in Philadelphia in January. One of the Rutgers plaintiffs taking part in the complaint worries that she will not be able to pursue a career in international social work, since background checks will link her to a spying program that incorrectly claimed it would expose the "likely whereabouts of terrorists."
Rutgers students had no connections to terrorist activities whatsoever. Their "wrongdoing" amounts to being members of the campus Muslim Student Associations in Newark and New Brunswick, which were infiltrated by undercover NYPD agents.
The injuries caused by the NYPD's spying do not end with damaged career prospects. The emotional and psychological effects of surveillance can also be seen in the anxiety that the Rutgers plaintiffs express about discussing their religion or praying in public, since any behavior that identifies them as Muslim has been deemed grounds for suspicion.
Last year, Newark District Court Judge William J. Martini granted New York City's motion to dismiss Hassan v. City of New York during the case's initial hearing, and denied the plaintiffs legal standing on the grounds that they could not prove "injury in fact." This dubious conclusion writes off spying as innocuous and harmless.