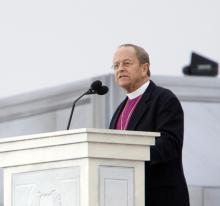 CONCORD, N.H. -- When V. Gene Robinson became the first openly gay bishop in the Episcopal Church in 2003, his controversial election triggered shock waves and fears of schism across the worldwide Anglican Communion. Hundreds of parishes left the Episcopal Church in protest.
Now, as this lighting-rod figure prepares to retire on Jan. 5, he's leaving New Hampshire for a city that knows polarization all too well: Washington, D.C.
But rather than throw fuel on the culture wars, Robinson foresees a new role as a bridge builder for a nation strained by divisive issues. First up: helping his new church home, St. Thomas' Parish in Dupont Circle, found a Center for Non-Violent Communication.
"Our big goal is to change the nature of the debate in Washington," Robinson said during an interview at his Concord office. "We're mostly shouting at each other these days. We'd like (the center) to become a place where people can learn about and commit themselves to a different kind of tone."