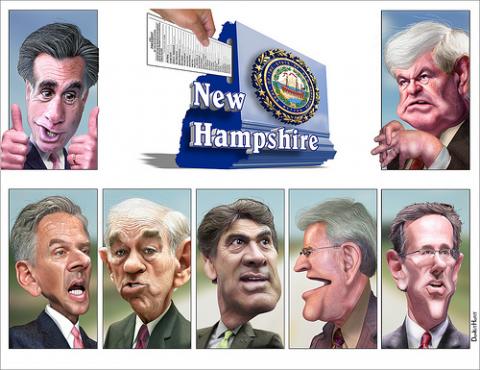 Tomorrow, New Hampshire votes. If there is one thing that I can tell you about my home state that might give insight into tomorrow's voting, it is this:
It's the only state in the country with the "right to revolution" written into it's constitution. (Check it out, it's article 10 in the N.H. bill of rights.)
The old Yankees of New Hampshire don't like being told who to vote for. And, they especially don't want to be told who should get their vote by anyone who works for a cable news company.
Remember how Obama was supposed to go on from Iowa to take New Hampshire sealing up the Democratic nomination? If they could throw a wrench into the GOP nomination process, I'm sure New Hampshirites would be proud to do so.
When it comes to democratic processes, New Hampshire a unique state. While the population is only 1.3 million people it has the largest state legislative body in the country with 400 members. Politics in my homeland is very personal and party affiliation is low.
Right now, Mitt Romney leads the Republican pack with Ron Paul and John Huntsman duking it out for second place. Santorum has climbed up in the polls after his strong Iowa showing. However, in New Hampshire the evangelical voters that helped Santorum in Iowa are in short supply and it's not clear if he will pick up the traction he needs to make it to the top three.
But the Catholic vote is the largest religious constituency in New Hampshire. And Santorum and Gingrich are the Catholic contenders, but they are currently polling 4th and 5th, respectively.
We could have the interesting situation on Tuesday in which Catholic voters by and large reject the two Catholic contenders and stick with the two Mormons (Romney and Huntsman) and the Protestant who is least vocal about his faith (Paul).
The Catholic vote has been a swing vote for a while now and hasn't been a solid voting bloc for either party. We now could have white evangelicals following their Catholic brothers' and sisters' leads.
Lisa Miller argues in the Washington Post:
"White evangelical voters just aren't as predictable as they used to be. That's the news out of Iowa – and it's bound to be reflected in Republican primary results all over the country."
Miller notes that Romney got the lion's share of the evangelical vote in urban areas while rural areas went to Santorum. She interviews David Kinnaman of The Barna Group and mentions the mainstreaming of American Evangelicalism with its growing prosperity and movement towards cities:
"The result has been a growing flexibility in the political opinions of urban Christians — although very few would go so far as to call themselves liberal. Many retain a strong evangelical identity as well as a passionate commitment to antiabortion principles, but urban evangelicals are more accepting of religious and cultural differences.
"In these more pluralistic settings," explains David Kinnaman, Barna's president, "there tends to be increasing interaction with people of various faith commitments. In order to make those relationships work, evangelicals need not to make as big a point about differences."
Marcia Pally, in her book The New Evangelicals, makes the case that this segment of the Christian population has widened its primary areas of concern. As a result evangelicals have become voters who are likely to weigh a variety of moral concerns that might encompass but are not limited to issues of sexuality and abortion. This might also help explain why Santorum, rather than Perry or Bachmann, won the backing of Iowa evangelicals.
Santorum, unlike Perry or Bachmann, has been a leader on issues such as poverty focused foreign aid, which is of concern to this "new evangelical" demographic. These voters are making a shift from party based voters to issue based voters. Pally's analysis of evangelicalism will be a must read for anyone trying to understand the radical shifts that demographic is undergoing.
South Carolina and Florida, with higher evangelical populations than New Hampshire, likely will be more telling of these theories than the Granite State will be. Religious identity doesn't go as far in New Hampshire as it does in the Midwest or down in the Bible belt. Also, New Hampshire has comparatively small urban areas, with its largest city, Manchester, logging just about 100,000 residents and therefore making it harder to see Lisa Miller's hypothesis at work.
Still, if the Catholics vote for the Mormon and the evangelicals vote for the Catholics that might say something about what is and is not driving voters this election.
Tim King is Communications Director for Sojourners. Follow Tim on Twitter @TMKing.