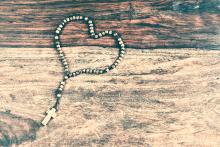 A friend mentioned that he likes my blogs dealing with love and compassion and other themes without getting into religion specifically. He said that the mention of God can make things uncomfortable.
My reaction: I know exactly where he's coming from.
The word "God" has become such a loaded term. We've made it that way; God hasn't done it. And the truth is, I've found myself shying away from using the word at times because I'm aware it's an immediate turnoff to some people. They have the same sort of visceral reaction that we get when we see one of those political attack ads come onto our TV set.
We want to reach for the remote and change the channel.
One of the reasons I started writing blogs was to try to strip away some of the nonsense we've attached to the name. And there is so much nonsense. You know what I mean:
That God loves me more than you. God approves of me and those who are like me, but not you and those who are like you. God likes my religion and my way of life, but not yours. God is on my side in any disagreement. God approves of hatred and judgment and killing. God promotes crusades and inquisitions and holy wars.
So much …