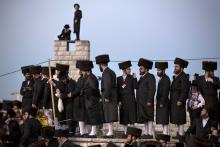 Two prominent leaders of England's Jewish community and a representative of the chief rabbi have joined in repudiating rabbis from an ultra-Orthodox Jewish sect in London that have banned women from driving.
Rabbis from the small Belz community have decreed that as of August children would not be allowed to study if their mothers drive them to school.
The decree was motivated out of a desire to keep "the traditional rules of modesty in our camp," the rabbis said, according to a report in The Jewish Chronicle.