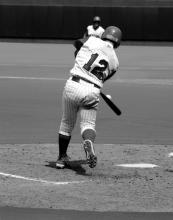 When I was growing up, I had three older cousins who were my models for being awesome. They were funny, smart, athletic, and they loved baseball.
And so I wanted to be all of those things, but the one thing I could do without any effort was love baseball.
But I had one major problem. I'm missing the athletic gene of the Ericksen family. While I could share in the love my cousins had for baseball, I couldn't share in their athletic ability. I lack coordination, which creates problems in every aspect of baseball. I once tripped while running to first base. Embarrassed, I ran back to the dugout and insisted to my teammates that I didn't trip – I dove. But by the fourth grade, every baseball player knows that you never dive into first base. You run through it.
In sixth grade I played third base. I fielded a grounder that took a bad hop – right to my forehead. I laid on the dirt, crying, and thinking that I never wanted to play again. I finished that game, but never replay organized baseball again.
So, my baseball career was a failure, but I still love the game. The smell of the grass, the crack of the bat, a diving catch – my total lack of athletic ability allows me to appreciate those who have honed their athleticism.