THIS IS OUR first issue of the new year, and with the new year comes new challenges, new hopes, and new promises which, in order of appearance, you may not live up to, will probably fail to realize, and may never keep. Fortunately, this January issue comes out in early December, several weeks before most self-delusions begin to surface, so there's still time to change them all, thus saving face. And here in Washington, D.C., saving face is very important. Living up to challenges, not so much. But saving face? We understand.
So let's get started with turning your future failures into successes and your future frowns into smiles, which are just frowns turned upside down, depending on whether you're standing on your head at the time.
The point is, you don't have to make the same mistakes again this year, because we can stop your resolutions before you make them. We can nip failure in the bud, because failure is just eruliaf turned upside down. Or possibly backward. Regardless, following is a short list of things you may have pledged to do this year. Think again.
Lose weight. Right. Sure. Whatever. Not going to happen. So stand up straight and hold your stomach in until your friends walk by. Then breathe. And remember: You're not too fat. You're just too short.
Stop reading tabloids at the checkout counter. Maybe this is the year you finally pick up Prevention magazine instead, even though the people in the pictures look physically, mentally, and spiritually better than you. But don't do it. Put it back on the rack, next to the gum named after nuclear submarines and galactic anomalies. Because Prevention just doesn't offer the important news you need: namely, that celebrities are worse off than you. So open up the Enquirer and see how aging film stars look on the beach. There. Don't you feel better now?
Read the Full Article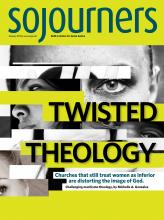 ​You've reached the end of our free magazine preview. For full digital access to Sojourners articles for as little as $2.95, please subscribe now. Your subscription allows us to pay authors fairly for their terrific work!
Already a subscriber?
Login