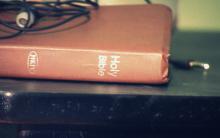 Christians ultimately attend church to meet with God. But sometimes we turn our churches into distractions, and spiritual leaders mistakenly prioritize things beyond God, becoming obsessed with marketing, consumerism, and entertainment — creating false idols.
The diluting of church happens in both subtle and obvious ways:
Scripture is substituted for a stirring YouTube video.
Worship is tweaked to incorporate flashing lights, fog machines, and synchronized graphics.
Visitors are given nicer gift baskets.
Contests are held. Websites are updated. Social media is expanded. Apps are developed. Promotional clothing is given away — a brand is created.