The Line movie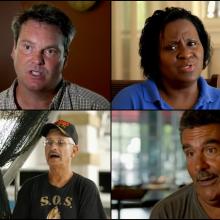 Many people in America are poor, due to no fault of their own—and their numbers are growing.

If you really know any poor people, you know that to be true. If you don't, the first sentence of this post runs against the grain of many cultural assumptions in America that tend to blame people for being poor.

On the eve of the first Presidential debate, Sojourners premiered The Line — a film about the new faces of poverty in America. In this powerful documentary from award-winning filmmaker Linda Midgett, those popular judgmental assumptions against poor people clearly and convincingly are debunked.

The Line, which I am asking everyone who reads this column to watch, deftly dismantles many stereotypes about poverty and shows why a growing number of Americans find themselves falling into it. The film does so by telling the personal stories of people who have fallen beneath "the line."

My 14-year-old son Luke, watched the story of John: a banker from a failed bank who once made a six-figure salary, but who now finds himself a substitute teacher making $12,000 a year while trying to raise his three kids. John painfully talked about what it feels like to have to go to a food bank because he has no other viable choice.

His story caused Luke to ask his mom after the film, "John said he got straight A's in school, so could that happen to me?"
Sojourners' CEO, the Rev. Jim Wallis, was a guest on Arianna Huffington's new online news channel, HuffPo Live, today to talk about the face of poverty in this heated election season and what has changed (or not) since the 2004 presidential election.
"More children than ever are poor," Wallis said. "From a religious point of view, that should be a top election issue. The highest poverty rate in half a century should be a fundamental moral issue."
"More and more of our friends are in poverty," Wallis told HuffPo Live host Ahmed Shihab-Eldin, "in the pews, in our workplaces, because so much is happening to so many people — through no fault of their own — and they are slipping below the poverty level."
There is a whole new wave of "suburban poverty," and many more of us know people who are poor than we did an election cycle ago, he said. There is a new "face" of poverty.
Watch the video of Wallis' appearance inside the blog...