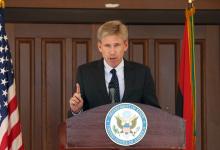 According to Reuters, the U.S. Ambassador to Libya, Christopher Stevens, and three other embassy staff were killed outside a consular building as it was rushed by a mob angered about a U.S. online film insulting the Prophet Mohammad. 
"The Libyan official said the ambassador, Christopher Stevens, was being driven from the consulate building to a safer location when gunmen opened fire.

'The American ambassador and three staff members were killed when gunmen fired rockets at them,' the official in Benghazi told Reuters."