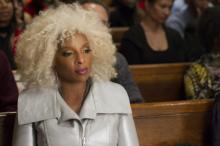 In her book "The Funny Thing Is …," Ellen DeGeneres describes being invited to God's house for wine and cheese. When the Almighty walks into the room, Degeneres describes God this way:
"I would say she was about 47, 48 years old, a beautiful, beautiful black woman. And we just immediately hugged."
When I think about the guardian angels who I've been told surround me like spiritual body guards, I picture the Angel In Charge as looking and sounding a lot like the Grammy-winning singer Mary J. Blige.
How appropriate, then, that Blige portrays a character in the upcoming holiday film, Black Nativity, (based in part on the Langston Hughes play) who appears to be an angelic being with a huge platinum-blonde Afro, dressed head-to-toe in silver-colored leather.