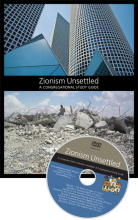 The Presbyterian Church (USA) has removed from its website a booklet that many Jewish groups have criticized as hostile to Israel and denigrating to Judaism.
"Zionism Unsettled," published in January by the church-chartered Israel/Palestine Mission Network, is a history and commentary on the Israeli-Palestinian conflict that paints Israel as the aggressor and describes Zionism as inherently racist and theologically flawed.
The booklet played a role last month in the denomination's debate on divesting from three American companies that, divestment proponents say, profit from Israel's occupation of the Palestinian territories.