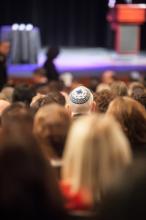 Anti-Semitic incidents in the U.S. spiked 21 percent last year, according to the Anti-Defamation League, unsettling many American Jews who had thought that hatred of Jews and Judaism was on the decline, at least here at home.
The ADL has released a spring report for the past 10 years that showed fewer incidents targeting American Jews. That downward trend contrasted sharply to the rising tide of anti-Semitism in Europe — recently witnessed in the January killings of four Jews at a kosher supermarket in Paris.
"The United States still continues to be unique in history" as a safe place for Jews, said Abraham Foxman, the ADL's national director.
But this new ADL report casts a shadow on the idea that the U.S., which is home to more than 40 percent of the world's Jews, stands in stark contrast to European anti-Semitism and far higher levels of antipathy against Jews in the Middle East, as reflected in studies of anti-Semitic attitudes worldwide.
"It's still different here than anywhere else, but don't take anything for granted, and be concerned," Foxman said.