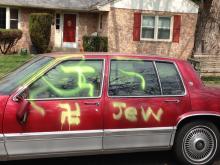 The Anti-Defamation League's study of anti-Semitism in the U.S. shows a 14 percent decrease in incidents during 2012, the second consecutive year of a downward trend.
Overall, the ADL counted 927 anti-Semitic incidents — including assaults, vandalism, and harassment — down from the 1,080 incidents reported in 2011. Abraham H. Foxman, the ADL's national director, called the trend "encouraging."
"While these numbers only provide one snapshot of anti-Semitism in America, to the extent that they serve as a barometer the decline shows that we have made progress as a society in confronting anti-Jewish hatred," he said.