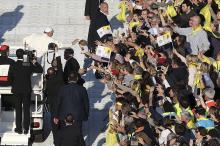 Pope Francis made a whirlwind trip to Tuscany on Nov. 10, during which he addressed immigrant workers, called on Italian bishops to shun power, and celebrated Mass with thousands of followers in Florence's soccer stadium.
Francis started his packed, daylong schedule with a helicopter flight to Prato, known for its textile industry and large Chinese community. Crowds waving the Vatican's yellow and white flag met him on his arrival.
The pope called for an end to labor exploitation, addressing the deaths of seven Chinese workers in a nighttime factory fire in 2013.
"It is a tragedy of exploitation and of inhumane conditions of life. And this is not undignified work," he said.