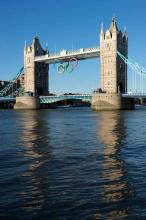 JERUSALEM — Despite international pressure — including support from both U.S. presidential candidates — the International Olympic Committee has refused to include a moment of silence at Friday's (July 27) opening ceremony for Israeli athletes killed by terrorists at the games 40 years ago.
President Obama and his likely GOP challenger, Mitt Romney, have both called for the IOC to honor the 11 Israelis murdered in Munich in 1972.
"We absolutely support the campaign for a moment of silence at the Olympics to honor the Israeli athletes killed in Munich," Obama spokesman Tommy Vietor said in a statement.
IOC President Jacques Rogge said a smaller, more somber ceremony would better memorialize the tragedy.
IOC officials made a brief statement and held a moment of silence on Monday during a pre-Olympics event in London, where the 2012 games begin on Friday.
"I would like to start today's ceremony by honoring the memory of 11 Israeli Olympians who shared the ideals that have brought us together in this beautiful Olympic Village," Rogge said.