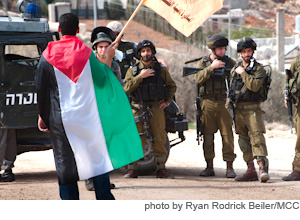 Last Friday, at a protest against the Israeli separation barrier in the West Bank town of Bil'in, Palestinian nonviolent activist Jawaher Abu Rahmah was killed by U.S.-made tear gas fired by Israeli soldiers. This headline from the Israeli newspaper Haaretz is a fitting tribute to her legacy: "We're not looking for revenge, says family of Palestinian protester who died after rally." Her uncle Abu Nidar Rahmah's statement: "We have no problem will the people of Israel. We have a problem with the army and the occupation ... . We believe in a popular struggle, a nonviolent struggle. We don't want a violent struggle."
Jawaher is not the first member of her family to die during a nonviolent protest. Her brother, Bassem Abu Rahmah, died in 2009 after being shot in the chest with a high-velocity tear gas grenade. Video of Bassem Abu Rahmah's death shows that he posed no physical threat to the troops that shot him. Similarly, despite the Israeli military's attempts at obfuscation, reports from activists on the scene at Jawaher's death testify that tear gas was fired before protesters were within 500 yards of Israeli soldiers.
While prevailing media narratives focus almost exclusively on episodes of Palestinian violence -- such as sporadic rocket attacks from Gaza that killed a foreign worker in Israel in the last year -- nonviolent protests are happening on a weekly basis in the West Bank. Sometimes these events are marred by the stone-throwing of undisciplined youth. But as these fatal episodes show, and other reports from my contacts at Mennonite Central Committee partner organization Stop the Wall confirm, Israeli soldiers frequently fire tear gas, concussion grenades, or rubber-coated steel bullets without any violent provocation.
In addition to aggressive use of crowd control weapons, nonviolent activists also face harassment and prison. My recent Sojourners magazine commentary mentioned the case of Abdallah Abu Rahmah, who was sentenced by Israeli authorities to a year in prison for "organizing illegal demonstrations" and "incitement." Since Abu Rahmah had already been imprisoned for 10 months prior to his trial and sentencing, he was due to be released on November 18, 2010. But he continues to be imprisoned beyond the end of his term while a military prosecutor appeals for a harsher sentence.
Abdallah Abu Rahmah was an organizer of the weekly demonstrations in Bil'in. His efforts garnered international support from the likes of Archbishop Desmond Tutu and former president Jimmy Carter, who met with him as members of The Elders to observe his efforts last year. Carter made this statement regarding Abdallah's extended imprisonment: "Israeli military prosecutors want to extend Abdallah Abu Rahmah's sentence as a deterrent to others who may follow his example. The Elders believe that his example of nonviolent resistance against the occupation is a model that others should follow."
Abu Rahmah's own words describe the context of his imprisonment far more eloquently than I can:
I find it strange that the military judges could call our demonstrations illegal and charge me for participating in and organizing them after the world's highest legal body, the International Court of Justice in The Hague, has ruled that Israel's wall within the occupied territories is illegal and must be dismantled. Even the Israeli supreme court ruled that the Wall's route in Bil'in is illegal.

I have been accused of inciting violence: this charge is also puzzling. If the check points, closures, ongoing land theft, wall and settlements, night raids into our homes and violent oppression of our protests does not incite violence, what does?
Despite the occupation's constant and intense incitement to violence in Bil'in, we have chosen another way. We have chosen to protest nonviolently together with Israeli and international supporters. We have chosen to carry a message of hope and real partnership between Palestinians and Israelis in the face of oppression and injustice. It is this message that the occupation is attempting to crush through its various institutions, including the military courts. An official from the Israeli Military Prosecution shamelessly told my attorney, Gaby Lasky, that the objective of the military in my prosecution is to "put an end" to these demonstrations.
I encourage you to read Abu Rahmah's entire letter. It describes how other members of his community have been arrested -- including the children of other organizers -- taken from their homes in the middle of the night, beaten and intimidated into giving "evidence." But I also want to emphasize Abu Rahmah's testimony that this movement includes Israeli and international activists. I've seen this movement in action. It's inspiring because it demonstrates that while political leaders are unable to take bold risks for peace, people at the grassroots are reaching across borders in a united struggle for justice -- all at great personal risk. In December, Israeli activist Jonathan Pollak was sentenced to three months in prison for a bicycle demonstration against Israel's attacks on Gaza two years ago.
Fortunately, nonviolent activism in Palestine is slowly gaining wider exposure, with the help of documentary films such as Budrus and Little Town of Bethlehem. One can only hope that the bravery of these activists will somehow trickle up to political leaders who so desperately lack the courage and creativity needed to forge a just peace.
Ryan Rodrick Beiler works in East Jerusalem for Mennonite Central Committee, and blogs at MCC Palestine Update.
Got something to say about what you're reading? We value your feedback!