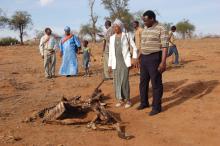 As climate change devastates communities in Kenya, church leaders are helping to address the crisis locally while also calling on industrialized nations to own up to their responsibilities for spewing greenhouse gas emissions into the atmosphere.
"But we (in Africa) also have a role to play because we have not been very good stewards of the environment," added Gichira, a poverty and development expert."I think they (industrialized nations) are responsible for most of the emissions," said Peter Solomon Gichira, the climate change program officer at the All Africa Conference of Churches. "They have responsibility to support climate change adaptation and mitigation as a moral obligation."
People living in the Global South such as Kenya are suffering the worst consequences, climate experts say.
Droughts have become more severe and recurrent and are frequently followed by excessive rains or floods. Temperatures are much higher and weather patterns are now unpredictable.